Ludington MI Chiropractors: Harbor Front Family Chiropractors, LLC
Dr. Christopher Toellner and his wife Dr. Merisa have been in practice for 11 years. They are both '02 graduates from Sherman College of Chiropractic, Spartanburg, South Carolina.
Our ideal patient is one that we know we can help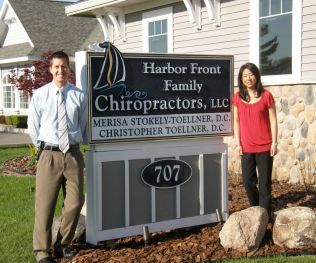 The patients that get the best results are the ones that allow themselves a chance. A full spinal evaluation reveals whether chiropractic is right for you and your problem. If so, we'll recommend a program of care to solve it. If not, we'll also let you know and help direct you to the most appropriate health professional.
We recognize everyone's values are different and you'll choose chiropractic for the 'right' reasons – your own. Information about proactive care, prevention and wellness are available for discussion when the patient is ready to discuss or explore those options. We will continue to innovate our systems and nurture an attitude that we can always improve on our service and ability to deliver our promise.
As Ludington MI chiropractors we strive to create a 'WOW' experience worth buzzing about!
It's tough choosing a doctor to care for you, so we want that decision to be as easy as possible for you. Our staff is friendly and eager to help you schedule an appointment -the same day if needed. You see, our goal is to meet you with your expectations and determine through evaluation where your problems ARE to see if we can help get you where you want to BE. 'Patient centered' care means our job is to solve your immediate problem efficiently and empower you by allowing your family the opportunity to minimize further needless suffering.
We believe in taking great care of you. Our focus and attention on what's important to you combined with efficient, patient friendly care delivered in such a way that honors your busy lifestyle creates a 'WOW' experience worth buzzing about.
Our Chiropractic Philosophy
Our practice philosophy is quite simple -your body is brilliantly designed with an on-board intelligence. Your nerve system is the master system that adapts you to the world. That means our inevitably stressful lifestyles create spinal imbalance that unless corrected and restored, will lead to further breakdown and physical degeneration of vital systems.
Solution Based Care
At Harbor Front Family Chiropractors we recognize our role in solution based care.
…What does that mean?
Have you ever swapped out a used battery for a dead battery? Maybe medicated a headache or back pain that went away only to reveal itself once the effects of the drug wore off? That's what you call a 'temporary' solution. Solution based care means that while our society is constantly seeking "the quick fix", actually solving the problem correctly in the first place will save valuable time, money and most of all your health in the long run.So we realize that finding the cause and addressing it with appropriate care that puts you back in the driver seat to live life on your terms is a WIN, WIN, WIN perspective. If we don't think we can help you solve your problem, we will not accept you as a patient.
Our vision for Ludington and surrounding communities is to help more people like yourself realize how amazing you can be and feel with a healthy nerve system. We feel like the work we do is literally holding a mirror in front of each person and showing them how incredible their body is if given the chance. We still get very excited watching people break through challenges they thought they would "just have to live with."
Chiropractic is cost effective and foundational in the health and function of the human body
As Ludington MI chiropractors we know chiropractic is cost effective and foundational in the health and function of the human body, yet there's a large part of the population who have not experienced the benefits of chiropractic. Some of this is due to awareness of spinal health and perceived need. The outcome we seek is that you have a wonderful experience! Our approach is patient friendly – so you are comfortable and at ease before, during and after an adjustment. We specialize in Activator Methods which utilizes very specific, objective stress tests that isolate your problem areas. Your results will speak for themselves.
We intend to make chiropractic more accessible by first delivering on our promise and allow more people an opportunity to experience greater quality of life. Believe it or not, right here in your community there's way too many people needlessly suffering with health challenges that invasive surgery and drugs aren't solving. I'm inviting you in to see if we can help you with a chiropractic solution. Our patient friendly approach simply allows more people to access quality care – our results speak for themselves. Business is about relationships, built from trust – which comes from focusing on what'simportant to you.
Sound interesting? Please contact our Ludington, MI office to make an appointment.